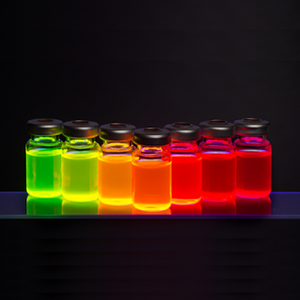 NNCrystal's cadmium selenide (CdSe) quantum dots are unique because of their monodisperse size distribution and flexible processability. The CdSe core quantum dots can be excited over a broad range of wavelengths and emit with a narrow peak, yielding color-pure emission that spans nearly the entire visible spectrum. The CdSe core quantum dots are a lower cost alternative great for demonstrations and proof of concept work.
Potential applications: teaching/classroom demonstrations, imaging and display research
Other solvents are available upon request. Please contact us to discuss.
Specifications:
Octadecylamine (ODA) stabilizing ligands
2.0-6.9 nm particle size
Absorption peaks 460-640 nm
Emission peaks 460-670 nm
SDS
|
Sample Spectra
|
Technical Specifications
Related Products: CdSe/ZnS QDs, Water-Soluble CdSe/ZnS QDs, CdS QDs, CdTe QDs, CdTeSeS Type-II QDs
Catalog No.
 Item/Description
CSE460-10
CdSe, ABS 460±10 nm, 10 mg sample in 5 mL Toluene ($231)
CSE480-10
CdSe, ABS 480±10 nm, 10 mg sample

in 5 mL Toluene (

$160.60)
CSE500-10
CdSe, ABS 500±10 nm, 10 mg sample

in 5 mL Toluene (

$

160.60

)
CSE520-10
CdSe, ABS 520±10 nm, 10 mg sample

in 5 mL Toluene (

$

160.60

)
CSE540-10
CdSe, ABS 540±10 nm, 10 mg sample

in 5 mL Toluene (

$

160.60

)
CSE560-10
CdSe, ABS 560±10 nm, 10 mg sample

in 5 mL Toluene (

$

160.60

)
CSE580-10
CdSe, ABS 580±10 nm, 10 mg sample

in 5 mL Toluene (

$

160.60

)
CSE590-10
CdSe, ABS 590±10 nm, 10 mg sample

in 5 mL Toluene (

$

160.60

)
CSE600-10
CdSe, ABS 600±10 nm, 10 mg sample

in 5 mL Toluene (

$

160.60

)
CSE610-10
CdSe, ABS 610±10 nm, 10 mg sample

in 5 mL Toluene (

$

160.60

)
CSE620-10
CdSe, ABS 620±10 nm, 10 mg sample

in 5 mL Toluene (

$

160.60

)
CSE640-10
CdSe, ABS 640±10 nm, 10 mg sample

in 5 mL Toluene (

$

160.60

)
CSE460-25
CdSe, ABS 460±10 nm, 25 mg sample

in 5 mL Toluene (

$404.80)
CSE480-25
CdSe, ABS 480±10 nm, 25 mg sample

in 5 mL Toluene (

$280.50)
CSE500-25
CdSe, ABS 500±10 nm, 25 mg sample

in 5 mL Toluene (

$

280.50

)
CSE520-25
CdSe, ABS 520±10 nm, 25 mg sample

in 5 mL Toluene (

$

280.50

)
CSE540-25
CdSe, ABS 540±10 nm, 25 mg sample

in 5 mL Toluene (

$

280.50

)
CSE560-25
CdSe, ABS 560±10 nm, 25 mg sample

in 5 mL Toluene (

$

280.50

)
CSE580-25
CdSe, ABS 580±10 nm, 25 mg sample

in 5 mL Toluene (

$

280.50

)
CSE590-25
CdSe, ABS 590±10 nm, 25 mg sample

in 5 mL Toluene (

$

280.50

)
CSE600-25
CdSe, ABS 600±10 nm, 25 mg sample

in 5 mL Toluene (

$

280.50

)
CSE610-25
CdSe, ABS 610±10 nm, 25 mg sample

in 5 mL Toluene (

$

280.50

)
CSE620-25
CdSe, ABS 620±10 nm, 25 mg sample

in 5 mL Toluene (

$

280.50

)
CSE640-25
CdSe, ABS 640±10 nm, 25 mg sample

in 5 mL Toluene (

$

280.50

)
CSE460-100
CdSe, ABS 460±10 nm, 100 mg sample in 20 mL Toluene ($1155)
CSE480-100
CdSe, ABS 480±10 nm, 100 mg sample in 

20 mL Toluene

($800.80)
CSE500-100
CdSe, ABS 500±10 nm, 100 mg sample

in 

20 mL Toluene (

$

800.80

)
CSE520-100
CdSe, ABS 520±10 nm, 100 mg sample

in 

20 mL Toluene (

$

800.80

)
CSE540-100
CdSe, ABS 540±10 nm, 100 mg sample

in 

20 mL Toluene (

$

800.80

)
CSE560-100
CdSe, ABS 560±10 nm, 100 mg sample

in 

20 mL Toluene (

$

800.80

)
CSE580-100
CdSe, ABS 580±10 nm, 100 mg sample

in 

20 mL Toluene (

$

800.80

)
CSE590-100
CdSe, ABS 590±10 nm, 100 mg sample

in 

20 mL Toluene (

$

800.80

)
CSE600-100
CdSe, ABS 600±10 nm, 100 mg sample

in 

20 mL Toluene (

$

800.80

)
CSE610-100
CdSe, ABS 610±10 nm, 100 mg sample

in 

20 mL Toluene (

$

800.80

)
CSE620-100
CdSe, ABS 620±10 nm, 100 mg sample

in 

20 mL Toluene (

$

800.80

)
CSE640-100
CdSe, ABS 640±10 nm, 100 mg sample

in 

20 mL Toluene (

$

800.80

)
CSEK6-10
CdSe Kit, 6 ABS, 10 mg samples in 5 mL Toluene ($770)
CSEK6-25
CdSe Kit, 6 ABS, 25 mg samples in 5 mL Toluene ($1346.40)
CSEK6-100
CdSe Kit, 6 ABS, 100 mg samples in 20 mL Toluene($3843.40)
CSEK10-10
CdSe Kit, 10 ABS, 10 mg samples in 5 mL Toluene ($1443.20)
CSEK10-25
CdSe Kit, 10 ABS, 25 mg samples in 5 mL Toluene ($2244)
CSEK10-100
CdSe Kit, 10 ABS, 100 mg samples in 20 mL Toluene ($6406.40)