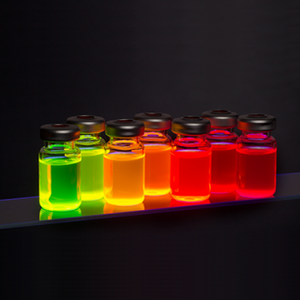 THIS PRODUCT LINE WILL SOON BE DISCONTINUED. CZ PRODUCTS ARE STILL AVAILABLE WHILE SUPPLIES LAST. 
Our HECZ product line is an equivalent substitution.   
Optical properties of the cadmium selenide zinc sulfide (CdSe/ZnS) core/shell quantum dots from NN-Labs are as outstanding as our CdSe quantum dots. They feature a ZnS coating that helps to protect and stabilize the unique optical properties of the CdSe core from potentially damaging environments, while reducing surface trap states and improving performance. Furthermore, the ZnS shell renders bright and stable luminescence. Their stable nature allows further surface-chemistry manipulation.
Potential applications: imaging and display research, surface chemistry
Other solvents available upon request. Please contact us to discuss. 
Specifications:
Octadecylamine (ODA) stabilizing ligands
5.0-9.5 nm particle size
Absorption peak 500-640 nm
Emission peaks 515-660 nm
SDS | Sample Spectra | Technical Specifications
Related Products: Water-Soluble CdSe/ZnS QDs, CdSe QDs, CdS QDs, CdTe QDs, CdTeSeS Type-II QDs
Catalog No.
Item/Description
CZ500-10
CdSe/ZnS, ABS 500 ± 10nm, 10 mg sample in 5mL Toluene ($180)
CZ520-10
CdSe/ZnS, ABS 520 ± 10nm, 10 mg sample

in 5mL Toluene (

$

180

)
CZ540-10
CdSe/ZnS, ABS 540 ± 10nm, 10 mg sample

in 5mL Toluene (

$

180

)
CZ560-10
CdSe/ZnS, ABS 560 ± 10nm, 10 mg sample

in 5mL Toluene (

$

180

)
CZ580-10
CdSe/ZnS, ABS 580 ± 10nm, 10 mg sample

in 5mL Toluene (

$

180

)
CZ600-10
CdSe/ZnS, ABS 600 ± 10nm, 10 mg sample

in 5mL Toluene (

$

180

)
CZ620-10
OUT OF STOCK
CZ640-10
CdSe/ZnS, ABS 640 ± 10nm, 10 mg sample

in 5mL Toluene (

$

180

)
CZ500-25
CdSe/ZnS, ABS 500 ± 10nm, 25 mg sample

in 5mL Toluene (

$330)
CZ520-25
CdSe/ZnS, ABS 520 ± 10nm, 25 mg sample

in 5mL Toluene (

$

330

)
CZ540-25
CdSe/ZnS, ABS 540 ± 10nm, 25 mg sample

in 5mL Toluene (

$

330

)
CZ560-25
CdSe/ZnS, ABS 560 ± 10nm, 25 mg sample

in 5mL Toluene (

$

330

)
CZ580-25
CdSe/ZnS, ABS 580 ± 10nm, 25 mg sample

in 5mL Toluene (

$

330

)
CZ600-25
CdSe/ZnS, ABS 600 ± 10nm, 25 mg sample

in 5mL Toluene (

$

330

)
CZ620-25
OUT OF STOCK 

CZ640-25
CdSe/ZnS, ABS 640 ± 10nm, 25 mg sample

in 5mL Toluene (

$

330

)
CZ500-100
OUT OF STOCK
CZ520-100
CdSe/ZnS, ABS 520 ± 10nm, 100 mg sample

in 20 mL Toluene (

$1080)
CZ540-100
CdSe/ZnS, ABS 540 ± 10nm, 100 mg sample

in 20 mL Toluene (

$

1080

)
CZ560-100
CdSe/ZnS, ABS 560 ± 10nm, 100 mg sample

in 20 mL Toluene (

$

1080

)
CZ580-100
CdSe/ZnS, ABS 580 ± 10nm, 100 mg sample

in 20 mL Toluene (

$

1080

)
CZ600-100
CdSe/ZnS, ABS 600 ± 10nm, 100 mg sample

in 20 mL Toluene (

$

1080

)
CZ620-100
OUT OF STOCK

CZ640-100
CdSe/ZnS, ABS 640 ± 10nm, 100 mg sample

in 20 mL Toluene (

$

1080

)
CZK-10
CdSe/ZnS Kit, 6 ABS, 10 mg samples

in 5 mL Toluene (

$864)
CZK-25
CdSe/ZnS Kit, 6 ABS, 25 mg samples

in 5 mL Toluene (

$1584)
CZK-100
CdSe/ZnS Kit, 6 ABS, 100 mg samples

in 20 mL Toluene (

$5184)