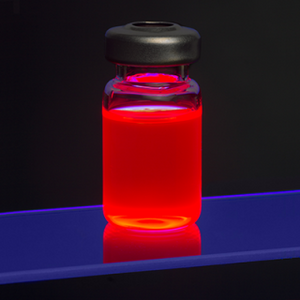 The high-quality cadmium telluride (CdTe) core nanocrystals from NN-Labs provide an excellent size distribution, high stability, and optical quality. These nanomaterials attract interest in the research and development of thin-film solar cells because they maintain an ability to be coated onto thin and flexible substrates to reduce the overall size and mass of the cell when compared to traditional silicon photovoltaic cells. Furthermore, with the introduction of nanometer-sized particles, even fewer materials are needed to capture the same level of sunlight.
Potential applications: solar (photovoltaic) purposes, thin-film solar cells
Other solvents available upon request. Please contact us to discuss. 
Specifications:
Octadecylphosphonic acid (ODPA) stabilizing ligands
4.5 nm particle size
Emission peak 640 nm
SDS | Sample Spectra | Technical Specifications
Related Products: CdSe/ZnS QDs, Water-Soluble CdSe/ZnS QDs, CdSe QDs, CdS QDs, CdTeSeS Type-II QDs
Catalog No.
Item/Description
CT640-10
CdTe, EMS 640 ± 10nm, 10 mg sample in 5 mL Toluene ($174)
CT640-25
CdTe, EMS 640 ± 10nm, 25 mg sample

in 5 mL Toluene (

$360)
CT640-100
CdTe, EMS 640 ± 10nm, 100 mg sample in 20 mL Toluene ($1180.80)