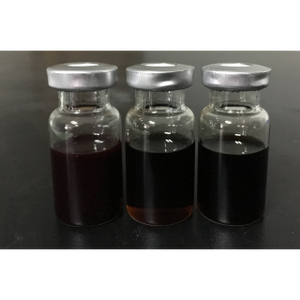 The type II structure of these nanocrystals allows the shell to confine only one of the charge carriers (electrons/holes). The recombination of the electron-hole pair across the heterojunction is engineered to be efficient although the radiative transition is spatially indirect. Such near-IR emission is in the wavelength range not achievable by either of the original semiconductors alone. In literature, tunable emission energies in the visible to near-IR spectral range are documented for type-II quantum dots. The new structure of CdTeSeS quantum dots makes them more tunable for PL emission from 650 nm to over 900 nm. Furthermore, the type-II quantum dots are nearly monodispersed,  which provides excellent optical performance and reliability.
Potential applications: biomedicine, bioprobes, in vivo imaging, lighting, solar cells
Other solvents available upon request. Please contact us to discuss. 
Specifications:
Oleic acid stabilizing ligands
4.5-5.3 nm particle size
Emission peaks 700-800 nm
SDS | Sample Spectra | Technical Specifications
Related Products: CdSe/ZnS QDs, Water-Soluble CdSe/ZnS QDs, CdSe QDs, CdS QDs, CdTe QDs
Catalog No.
Item/Description
CTSS700-10
CdTeSeS, EMS 700 ± 50 nm, 10 mg sample

in 5 mL Toluene (

$228)
CTSS800-10
CdTeSeS, EMS 800 ± 50 nm, 10 mg sample

in 5 mL Toluene (

$

228

)
CTSS900-10
THIS PRODUCT HAS BEEN DISCONTINUED

CTSS700-25
CdTeSeS, EMS 700 ± 50 nm, 25 mg sample

in 5 mL Toluene (

$468)
CTSS800-25
CdTeSeS, EMS 800 ± 50 nm, 25 mg sample

in 5 mL Toluene (

$

468

)
CTSS900-25
THIS PRODUCT HAS BEEN DISCONTINUED

CTSS700-50
CdTeSeS, EMS 700 ± 50 nm, 50 mg sample in 10 mL Toluene ($840)
CTSS800-50
CdTeSeS, EMS 800 ± 50 nm, 50 mg sample  in 10 mL Toluene ($

840

)
CTSS900-50
THIS PRODUCT HAS BEEN DISCONTINUED

CTSS700-100
CdTeSeS, EMS 700 ± 50 nm, 100 mg sample in 20 mL Toluene ($1512)
CTSS800-100
CdTeSeS, EMS 800 ± 50 nm, 100 mg sample in 20 mL Toluene ($1512)
CTSS900-100
THIS PRODUCT HAS BEEN DISCONTINUED