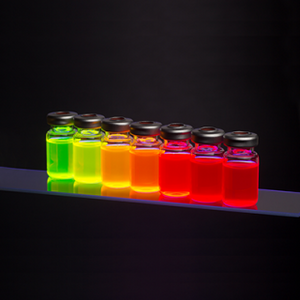 The copper indium sulfide zinc sulfide (CuInS2/ZnS) core/shell quantum dots from NN-Labs are a heavy metal-free, high performance alternative to cadmium based quantum dots.  CuInS2/ZnS quantum dots possess brilliant quantum yield and excellent long-term stability, and these non-toxic quantum dots lack the environmental hazards of cadmium based quantum dots. 
Potential applications: biomedicine, solar cell development, LED lighting applications
Other solvents available upon request. Please contact us to discuss. 
Specifications:
Oleic acid / Oleylamine stabilizing ligands (9:1)
4.0-7.1 nm particle size
Emission peaks 530-850 nm
SDS | Sample Spectra | Technical Specifications
Related Products: D-dots, Water-Soluble D-dots, PbS QDs, PbSe QDs, Water-Soluble CuInS2/ZnS QDs, InP/ZnS QDs, Water Soluble InP/ZnS QDs
Catalog No.
Item/Description
CIS530-10
CuInS

2

/

ZnS, Emission 530 ± 15nm, 10 mg sample in 5 mL Toluene ($230)
CIS560-10
CuInS2/ZnS, Emission 560 ± 15nm, 10 mg sample

in 5 mL Toluene (

$

230

)
CIS590-10
CuInS2/ZnS, Emission 590 ± 15nm, 10 mg sample

in 5 mL Toluene (

$

230

)
CIS620-10
CuInS2/ZnS, Emission 620 ± 15nm, 10 mg sample

in 5 mL Toluene (

$

230

)
CIS650-10
CuInS2/ZnS, Emission 650 ± 15nm, 10 mg sample

in 5 mL Toluene (

$

230

)
CIS700-10
CuInS2/ZnS, Emission 700 ± 15nm, 10 mg sample

in 5 mL Toluene (

$

230

)
CIS750-10
CuInS2/ZnS, Emission 750 ± 15nm, 10 mg sample

in 5 mL Toluene (

$

230

)
CIS800-10
CuInS2/ZnS, Emission 800 ± 15nm, 10 mg sample

in 5 mL Toluene (

$286)
CIS850-10
CuInS2/ZnS, Emission 850 ± 15nm, 10 mg sample

in 5 mL Toluene (

$286)
CIS530-25
CuInS2/ZnS, Emission 530 ± 15nm, 25 mg sample

in 5 mL Toluene (

$460)
CIS560-25
CuInS2/ZnS, Emission 560 ± 15nm, 25 mg sample

in 5 mL Toluene (

$

460

)
CIS590-25
CuInS2/ZnS, Emission 590 ± 15nm, 25 mg sample

in 5 mL Toluene (

$

460

)
CIS620-25
CuInS2/ZnS, Emission 620 ± 15nm, 25 mg sample

in 5 mL Toluene (

$

460)

CIS650-25
CuInS2/ZnS, Emission 650 ± 15nm, 25 mg sample

in 5 mL Toluene (

$

460

)
CIS700-25
CuInS2/ZnS, Emission 700 ± 15nm, 25 mg sample

in 5 mL Toluene (

$

460

)
CIS750-25
CuInS2/ZnS, Emission 750 ± 15nm, 25 mg sample

in 5 mL Toluene (

$

460

)
CIS800-25
CuInS2/ZnS, Emission 800 ± 15nm, 25 mg sample

in 5 mL Toluene (

$572)
CIS850-25
CuInS2/ZnS, Emission 850 ± 15nm, 25 mg sample

in 5 mL Toluene (

$572)
CIS530-100
CuInS2/ZnS, Emission 530 ± 15nm, 100 mg sample in 20 mL Toluene ($1495)
CIS560-100
CuInS2/ZnS, Emission 560 ± 15nm, 100 mg sample

in 20 mL Toluene (

$

1495

)
CIS590-100
CuInS2/ZnS, Emission 590 ± 15nm, 100 mg sample

in 20 mL Toluene (

$

1495

)
CIS620-100
CuInS2/ZnS, Emission 620 ± 15nm, 100 mg sample

in 20 mL Toluene (

$

1495

)
CIS650-100
CuInS2/ZnS, Emission 650 ± 15nm, 100 mg sample

in 20 mL Toluene (

$

1495

)
CIS700-100
CuInS2/ZnS, Emission 700 ± 15nm, 100 mg sample

in 20 mL Toluene ($1495

)
CIS750-100
CuInS2/ZnS, Emission 750 ± 15nm, 100 mg sample

in 20 mL Toluene (

$

1495

)
CIS800-100
CuInS2/ZnS, Emission 800 ± 15nm, 100 mg sample

in 20 mL Toluene (

$1859)
CIS850-100
CuInS2/ZnS, Emission 850 ± 15nm, 100 mg sample

in 20 mL Toluene (

$1859)