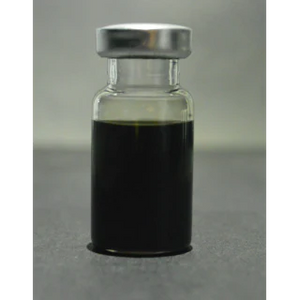 Lead selenide (PbSe) core quantum dots from NN-Labs exhibit unique size-dependent optical/electronic properties and flexible processability.  PbSe quantum dots are inorganic semiconductors with an outer surface coating of organic ligands (oleic acid). These ligands allow for stability, solubility, and processability of these nanocrystals in solution.  PbSe quantum dots can be excited over a broad range of wavelengths while emitting at a finite position in the near-IR region, which is desirable for bio-medical labeling.
Potential applications: biomedicine, solar cell development, LED lighting applications.
Other solvents available upon request. Please contact us to discuss. 
Specifications:
Oleic acid stabilizing ligands
2.9-4.8 nm particle size

Absorption

peaks 1200-1600 nm
SDS | Sample Spectra | Technical Specifications
Related Products: D-dots, Water-Soluble D-dots, PbS QDs, CuInS2/ZnS QDs, Water-Soluble CuInS2/ZnS QDs, InP/ZnS QDs, Water Soluble InP/ZnS QDs
Catalog No.
Item/Description
PBSE1200-50
PbSe,

Absorption

1200 ± 50nm, 50 mg sample in 5 mL Toluene ($345)
PBSE1300-50
PbSe,

Absorption

1300 ± 50nm, 50 mg sample in 5 mL Toluene ($

345

)
PBSE1400-50
PbSe,

Absorption

1400 ± 50nm, 50 mg sample in 5 mL Toluene ($

345

)
PBSE1500-50
PbSe,

Absorption

1500 ± 50nm, 50 mg sample in 5 mL Toluene ($

345

)
PBSE1600-50

THIS PRODUCT HAS BEEN DISCONTINUED

PBSE1700-50
THIS PRODUCT HAS BEEN DISCONTINUED

PBSE1800-50
THIS PRODUCT HAS BEEN DISCONTINUED

PBSE1200-100
PbSe,

Absorption

1200 ± 50nm, 100 mg sample in 10 mL Toluene ($575)
PBSE1300-100
PbSe,

Absorption 

1300 ± 50nm, 100 mg sample in 10 mL Toluene ($

575

)
PBSE1400-100
PbSe,

Absorption

1400 ± 50nm, 100 mg sample in 10 mL Toluene ($

575

)
PBSE1500-100
PbSe,

Absorption

1500 ± 50nm, 100 mg sample in 10 mL Toluene ($

575

)
PBSE1600-100
THIS PRODUCT HAS BEEN DISCONTINUED

PBSE1700-100
THIS PRODUCT HAS BEEN DISCONTINUED

PBSE1800-100
THIS PRODUCT HAS BEEN DISCONTINUED

PBSE1200-250
PbSe,

Absorption

1200 ± 50nm, 250 mg sample in 25 mL Toluene ($1380)
PBSE1300-250
PbSe,

Absorption

1300 ± 50nm, 250 mg sample in 25 mL Toluene ($

1380

)
PBSE1400-250
PbSe,

Absorption

1400 ± 50nm, 250 mg sample in 25 mL Toluene ($

1380

)
PBSE1500-250
PbSe,

Absorption

1500 ± 50nm, 250 mg sample in 25 mL Toluene ($

1380

)
PBSE1600-250

THIS PRODUCT HAS BEEN DISCONTINUED

PBSE1700-250
THIS PRODUCT HAS BEEN DISCONTINUED

PBSE1800-250
THIS PRODUCT HAS BEEN DISCONTINUED

PBSE1200-500
PbSe,

Absorption

1200 ± 50nm, 500 mg sample in 50 mL Toluene ($2300)
PBSE1300-500
PbSe,

Absorption

1300 ± 50nm, 500 mg sample in 50 mL Toluene ($

2300

)
PBSE1400-500
PbSe,

Absorption

1400 ± 50nm, 500 mg sample in 50 mL Toluene ($

2300

)
PBSE1500-500
PbSe,

Absorption

1500 ± 50nm, 500 mg sample in 50 mL Toluene ($

2300

)
PBSE1600-500

THIS PRODUCT HAS BEEN DISCONTINUED

PBSE1700-500
THIS PRODUCT HAS BEEN DISCONTINUED

PBSE1800-500
THIS PRODUCT HAS BEEN DISCONTINUED