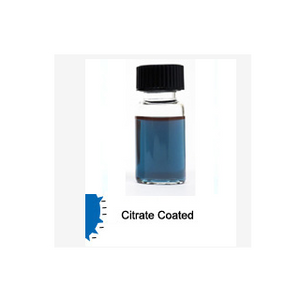 Non-functionalized Gold NanoUrchins have unique optical properties compared to spherical gold nanoparticles of the same core diameter. The spiky uneven surface causes a red shift in the surface plasmon peak and a larger enhancement of electromagnetic fields at the tips of the Gold NanoUrchin spikes. As an example, 100nm spherical gold nanoparticles have an SPR peak at 570nm while 100nm Gold NanoUrchins have a SPR peak at around 680nm. In addition, binding of ligands such as proteins to the Gold NanoUrchin surface causes a larger shift in the surface plasmon peak compared to standard spherical gold nanoparticles.
The citrate-covered surface of the Gold NanoUrchins allows for efficient adsorption of primary antibodies and other proteins. Also, Gold NanoUrchins can be further modified and functionalized through ligand-exchange with e.g. thiol-containing ligands such as PEG and oligonucleotides. These particles can be used as an alternative to standard spherical gold nanoparticles in a wide range of applications.
Potential applications: electron microscopy, immunostaining, development of biological sensors.
Specifications:
50-100 nm particle size
>95% reactant free
Uniform size distribution (CV<8%)
Technical Specifications | SDS Sheet
Related Products: Amine Gold Nanoparticles, Biotin Gold Nanoparticles, Carboxylated Gold Nanoparticles, Methylated Gold Nanoparticles, NHS Activated Gold Nanoparticle Kit, Standard Non-Functionalized Gold Nanocrystals (5-90 nm), Standard Non-Functionalized Gold Nanocrystals (100-400 nm), Reactant Free Gold Nanoparticles (5-90 nm), Reactant Free Gold Nanoparticles (100-400 nm), Water-Soluble Colloidal Gold Nanoparticles, NHS Activated Gold NanoUrchins
Catalog No.
Item/Description
GU-50-40
50nm Gold NanoUrchins, 40mL, 585nm absorption peak (1 OD), supplied in 0.1mM phosphate-buffered saline – Purity: >95.0% reactant free ($192)
GU-60-40
60nm Gold NanoUrchins, 40mL, 585nm absorption peak (1 OD), supplied in 0.1mM phosphate-buffered saline – Purity: >95.0% reactant free 

($192)

GU-70-40
70nm Gold NanoUrchins, 40mL, 600nm absorption peak (1 OD), supplied in 0.1mM phosphate-buffered saline – Purity: >95.0% reactant free 

($192)

GU-80-40
80nm Gold NanoUrchins, 40mL, 620nm absorption peak (1 OD), supplied in 0.1mM phosphate-buffered saline – Purity: >95.0% reactant free 

($192)

GU-90-40
90nm Gold NanoUrchins, 40mL, 630nm absorption peak (1 OD), supplied in 0.1mM phosphate-buffered saline – Purity: >95.0% reactant free 

($192)

GU-100-40
100nm Gold NanoUrchins, 40mL, 680nm absorption peak (1 OD), supplied in 0.1mM phosphate-buffered saline – Purity: >95.0% reactant free 

($192)

GU-50-100
50nm Gold NanoUrchins, 100mL, 585nm absorption peak (1 OD), supplied in 0.1mM phosphate-buffered saline – Purity: >95.0% reactant free ($289)
GU-60-100
60nm Gold NanoUrchins, 100mL, 585nm absorption peak (1 OD), supplied in 0.1mM phosphate-buffered saline – Purity: >95.0% reactant free 

($289)

GU-70-100
70nm Gold NanoUrchins, 100mL, 600nm absorption peak (1 OD), supplied in 0.1mM phosphate-buffered saline – Purity: >95.0% reactant free 

($289)

GU-80-100
80nm Gold NanoUrchins, 100mL, 620nm absorption peak (1 OD), supplied in 0.1mM phosphate-buffered saline – Purity: >95.0% reactant free 

($289)

GU-90-100
90nm Gold NanoUrchins, 100mL, 630nm absorption peak (1 OD), supplied in 0.1mM phosphate-buffered saline – Purity: >95.0% reactant free 

($289)

GU-100-100
100nm Gold NanoUrchins, 100mL, 680nm absorption peak (1 OD), supplied in 0.1mM phosphate-buffered saline – Purity: >95.0% reactant free 

($289)

GU-50-500
50nm Gold NanoUrchins, 500mL, 585nm absorption peak (1 OD), supplied in 0.1mM phosphate-buffered saline – Purity: >95.0% reactant free ($995)
GU-60-500
60nm Gold NanoUrchins, 500mL, 585nm absorption peak (1 OD), supplied in 0.1mM phosphate-buffered saline – Purity: >95.0% reactant free 

($995)

GU-70-500
70nm Gold NanoUrchins, 500mL, 600nm absorption peak (1 OD), supplied in 0.1mM phosphate-buffered saline – Purity: >95.0% reactant free 

($995)

GU-80-500
80nm Gold NanoUrchins, 500mL, 620nm absorption peak (1 OD), supplied in 0.1mM phosphate-buffered saline – Purity: >95.0% reactant free 

($995)

GU-90-500
90nm Gold NanoUrchins, 500mL, 630nm absorption peak (1 OD), supplied in 0.1mM phosphate-buffered saline – Purity: >95.0% reactant free 

($995)

GU-100-500
100nm Gold NanoUrchins, 500mL, 680nm absorption peak (1 OD), supplied in 0.1mM phosphate-buffered saline – Purity: >95.0% reactant free 

($995)