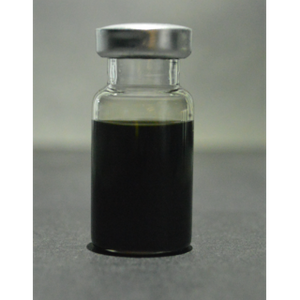 Lead sulfide (PbS) quantum dots from NN-Labs can be excited over a broad range of wavelengths and emit a finite position in the near-IR region.  PbS quantum dots are inorganic semiconductors with an outer surface coating of organic ligands (oleic acid).  These ligands allow for the stability, solubility, and processability in organic solution.
Potential applications: biomedicine, solar cell development, LED lighting applications.
Other solvents available upon request. Please contact us to discuss. 
Specifications:
Oleic acid stabilizing ligands
2.7-5.7 nm particle size

Absorption

peaks 900-1600 nm
SDS | Sample Spectra | Technical Specifications
Related Products: D-dots, Water-Soluble D-dots, PbSe QDs, CuInS2/ZnS QDs, Water-Soluble CuInS2/ZnS QDs, InP/ZnS QDs, Water Soluble InP/ZnS QDs
Catalog No.
Item/Description
PBS900-50
PbS, Absorption 900 ± 50nm, 50 mg sample in 5 mL Toluene($345)
PBS1000-50
PbS,

Absorption

1000 ± 50nm, 50 mg sample in 5 mL Toluene ($

345

)
PBS1100-50
PbS,

Absorption

1100 ± 50nm, 50 mg sample in 5 mL Toluene ($

345

)
PBS1200-50
PbS,

Absorption

1200 ± 50nm, 50 mg sample in 5 mL Toluene ($

345

)
PBS1300-50
PbS,

Absorption

1300 ± 50nm, 50 mg sample in 5 mL Toluene ($

345

)
PBS1400-50
PbS,

Absorption

1400 ± 50nm, 50 mg sample in 5 mL Toluene ($

345

)
PBS1500-50
PbS,

Absorption

1500 ± 50nm, 50 mg sample in 5 mL Toluene ($

345

)
PBS1600-50
PbS,

Absorption

1600 ± 50nm, 50 mg sample in 5 mL Toluene ($

345

)
PBS900-100
PbS,

Absorption

900 ± 50nm, 100 mg sample in 10 mL Toluene  ($575)
PBS1000-100
PbS,

Absorption

1000 ± 50nm, 100 mg sample in 10 mL Toluene  ($

575

)
PBS1100-100
PbS,

Absorption

1100 ± 50nm, 100 mg sample in 10 mL Toluene ($

575

)
PBS1200-100
PbS,

Absorption

1200 ± 50nm, 100 mg sample in 10 mL Toluene ($

575

)
PBS1300-100
PbS,

Absorption

1300 ± 50nm, 100 mg sample in 10 mL Toluene ($

575

)
PBS1400-100
PbS,

Absorption

1400 ± 50nm, 100 mg sample in 10 mL Toluene ($

575

)
PBS1500-100
PbS,

Absorption

1500 ± 50nm, 100 mg sample in 10 mL Toluene ($

575

)
PBS1600-100
PbS,

Absorption

1600 ± 50nm, 100 mg sample in 10 mL Toluene ($

575

)
PBS900-250
PbS,

Absorption 

900 ± 50nm, 250 mg sample in 25 mL Toluene ($1380)
PBS1000-250
PbS,

Absorption

1000 ± 50nm, 250 mg sample in 25 mL Toluene ($

1380

)
PBS1100-250
PbS,

Absorption

1100 ± 50nm, 250 mg sample in 25 mL Toluene ($

1380

)
PBS1200-250
PbS,

Absorption

1200 ± 50nm, 250 mg sample in 25 mL Toluene ($

1380

)
PBS1300-250
PbS,

Absorption

1300 ± 50nm, 250 mg sample in 25 mL Toluene ($

1380

)
PBS1400-250
PbS,

Absorption

1400 ± 50nm, 250 mg sample in 25 mL Toluene ($

1380

)
PBS1500-250
PbS,

Absorption

1500 ± 50nm, 250 mg sample in 25 mL Toluene ($

1380

)
PBS1600-250
PbS,

Absorption

1600 ± 50nm, 250 mg sample in 25 mL Toluene ($

1380

)
PBS900-500
PbS,

Absorption

900 ± 50nm, 500 mg sample in 50 mL Toluene ($2300)
PBS1000-500
PbS,

Absorption

1000 ± 50nm, 500 mg sample in 50 mL Toluene ($

2300

)
PBS1100-500
PbS,

Absorption

1100 ± 50nm, 500 mg sample in 50 mL Toluene ($

2300

)
PBS1200-500
PbS,

Absorption

1200 ± 50nm, 500 mg sample in 50 mL Toluene ($

2300

)
PBS1300-500
PbS,

Absorption

1300 ± 50nm, 500 mg sample in 50 mL Toluene ($

2300

)
PBS1400-500
PbS,

Absorption

1400 ± 50nm, 500 mg sample in 50 mL Toluene ($

2300

)
PBS1500-500
PbS,

Absorption

1500 ± 50nm, 500 mg sample in 50 mL Toluene ($

2300

)
PBS1600-500
PbS,

Absorption

1600 ± 50nm, 500 mg sample in 50 mL Toluene ($

2300

)