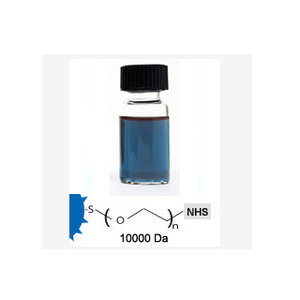 NHS-activated Gold NanoUrchin Conjugation Kits optimized for high efficiency one-step conjugations of proteins and other primary amine-containing ligands to gold nanoparticles with diameters in the size range of 5nm-100nm. 
Non-functionalized Gold NanoUrchins have unique optical properties compared to spherical gold nanoparticles of the same core diameter. The spiky uneven surface causes a red shift in the surface plasmon peak and a larger enhancement of electromagnetic fields at the tips of the Gold NanoUrchin spikes compared to that of a spherical particle. As an example, 100nm spherical gold nanoparticles have an SPR peak at 570nm while 100nm Gold NanoUrchins have a SPR peak at around 680nm. In addition, binding of ligands such as proteins to the Gold NanoUrchin surface causes a larger shift in the surface plasmon peak compared to standard spherical gold nanoparticles.
The kit contains ready-to-use pre-made mixtures. No activation or manipulation of the gold nanoparticles is required prior to conjugation, a step that often results in poor performing conjugates. Simply mix your protein with the pre-activated NHS ester gold nanoparticles supplied in the kit.
Potential applications: immunoblotting, lateral flow assays, LSPR Assays, microscopy applications (i.e. TEM)
Kit Components:
NHS Activated Gold NanoUrchins (lyophilized)
Protein Resuspension Buffer
Reaction Buffer
Quencher Solution
Technical Specifications | SDS Sheet 
Related Products: Amine Gold Nanoparticles, Biotin Gold Nanoparticles, Carboxylated Gold Nanoparticles, Methylated Gold Nanoparticles, NHS Activated Gold Nanoparticle Kit, Standard Non-Functionalized Gold Nanocrystals (5-90 nm), Standard Non-Functionalized Gold Nanocrystals (100-400 nm), Reactant Free Gold Nanoparticles (5-90 nm), Reactant Free Gold Nanoparticles (100-400 nm), Water-Soluble Colloidal Gold Nanoparticles, Gold NanoUrchins
Catalog No.
Item/Description
GUN10K-50-1
One-Step mini kit for covalent conjugation of proteins and other amine containing ligands to 50nm Gold NanoUrchins. 50nm Conjugation Kit (3rxn X 10ug of protein), 585nm absorption peak, OD=20 at 100uL after conjugation ($214)
GUN10K-60-1
One-Step mini kit for covalent conjugation of proteins and other amine containing ligands to 60nm Gold NanoUrchins. 60nm Conjugation Kit (3rxn X 10ug of protein), 585nm absorption peak, OD=20 at 100uL after conjugation 

($214)

GUN10K-70-1
One-Step mini kit for covalent conjugation of proteins and other amine containing ligands to 70nm Gold NanoUrchins. 70nm Conjugation Kit (3rxn X 10ug of protein), 600nm absorption peak, OD=20 at 100uL after conjugation 

($214)

GUN10K-80-1
One-Step mini kit for covalent conjugation of proteins and other amine containing ligands to 80nm Gold NanoUrchins. 80nm Conjugation Kit (3rxn X 10ug of protein), 620nm absorption peak, OD=20 at 100uL after conjugation 

($214)

GUN10K-90-1
One-Step mini kit for covalent conjugation of proteins and other amine containing ligands to 90nm Gold NanoUrchins. 90nm Conjugation Kit (3rxn X 10ug of protein), 630nm absorption peak, OD=20 at 100uL after conjugation 

($214)

GUN10K-100-1
One-Step mini kit for covalent conjugation of proteins and other amine containing ligands to 100nm Gold NanoUrchins. 100nm Conjugation Kit (3rxn X 10ug of protein), 680nm absorption peak, OD=20 at 100uL after conjugation 

($214)

GUN10K-50-2
One-Step mini kit for covalent conjugation of proteins and other amine containing ligands to 50nm Gold NanoUrchins. 50nm Conjugation Kit (10rxn X 10ug of protein), 585nm absorption peak, OD=20 at 100uL after conjugation ($465)
GUN10K-60-2
One-Step mini kit for covalent conjugation of proteins and other amine containing ligands to 60nm Gold NanoUrchins. 60nm Conjugation Kit (10rxn X 10ug of protein), 585nm absorption peak, OD=20 at 100uL after conjugation 

($465)

GUN10K-70-2
One-Step mini kit for covalent conjugation of proteins and other amine containing ligands to 70nm Gold NanoUrchins. 70nm Conjugation Kit (10rxn X 10ug of protein), 600nm absorption peak, OD=20 at 100uL after conjugation 

($465)

GUN10K-80-2
One-Step mini kit for covalent conjugation of proteins and other amine containing ligands to 80nm Gold NanoUrchins. 80nm Conjugation Kit (10rxn X 10ug of protein), 620nm absorption peak, OD=20 at 100uL after conjugation 

($465)

GUN10K-90-2
One-Step mini kit for covalent conjugation of proteins and other amine containing ligands to 90nm Gold NanoUrchins. 90nm Conjugation Kit (10rxn X 10ug of protein), 630nm absorption peak, OD=20 at 100uL after conjugation 

($465)

GUN10K-100-2
One-Step mini kit for covalent conjugation of proteins and other amine containing ligands to 100nm Gold NanoUrchins. 100nm Conjugation Kit (10rxn X 10ug of protein), 680nm absorption peak, OD=20 at 100uL after conjugation 

($465)

GUN10K-50-3
One-Step MIDI scale-up kit for covalent conjugation of proteins and other amine containing ligands to 50nm Gold NanoUrchins. 50nm Conjugation Kit (1rxn X 100ug of protein), 585nm absorption peak, OD=20 at 100uL after conjugation 

($465)

GUN10K-60-3
One-Step MIDI scale-up kit for covalent conjugation of proteins and other amine containing ligands to 60nm Gold NanoUrchins. 60nm Conjugation Kit (1rxn X 100ug of protein), 585nm absorption peak, OD=20 at 100uL after conjugation 

($465)

GUN10K-70-3
One-Step MIDI scale-up kit for covalent conjugation of proteins and other amine containing ligands to 70nm Gold NanoUrchins. 70nm Conjugation Kit (1rxn X 100ug of protein), 600nm absorption peak, OD=20 at 100uL after conjugation 

($465)

GUN10K-80-3
One-Step MIDI scale-up kit for covalent conjugation of proteins and other amine containing ligands to 80nm Gold NanoUrchins. 80nm Conjugation Kit (1rxn X 100ug of protein), 620nm absorption peak, OD=20 at 100uL after conjugation 

($465)

GUN10K-90-3
One-Step MIDI scale-up kit for covalent conjugation of proteins and other amine containing ligands to 90nm Gold NanoUrchins. 90nm Conjugation Kit (1rxn X 100ug of protein), 630nm absorption peak, OD=20 at 100uL after conjugation 

($465)

GUN10K-100-3
One-Step MIDI scale-up kit for covalent conjugation of proteins and other amine containing ligands to 100nm Gold NanoUrchins. 100nm Conjugation Kit (1rxn X 100ug of protein), 680nm absorption peak, OD=20 at 100uL after conjugation 

($465)